Understand your players' games like never before
Analysis
Analyse your players' games with the innovative and patented What-if-Analysis™, US Patent 10905933. Identify the areas that have the most effect on a player's score and design practice plans tailored for score improvement.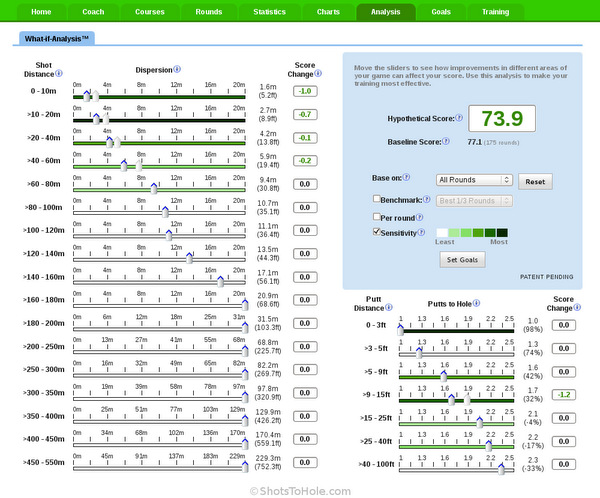 ---
Review from your mobile
Sign-in to shotstohole.com from your mobile browser and select a player to review.

---
Link and review players
Review and monitor your linked players' golf stats and practice information. Invite players to link their ShotsToHole.com accounts to yours for review

---
Goals
Set goals based on findings from What-if-Analysis™, or set goals in any statistic. Help maintain player focus and assist in monitoring their progress.

---
Round reports
Receive reports showing your players' completed rounds allowing you to keep up to date with player progress.

---
Group your players
Compare one of your players to the average of the group. Rank the players within the group.

---
Rankings
Rank your players in many statistics, for any time period and round type.

---
Notes
Record and categorise player and lesson notes. Help maintain professionalism and continuity between lessons.

---
Benchmarking
Benchmark players against themselves, another player, or ShotsToHole.com's extensive database of shots.

---
Relevant practice
Make practice relevant by designing practice programs that focus on shots played on the course.

---
30-day money back guarantee
We will refund your full subscription costs if the product does not meet your needs or expectations within 30 days of your initial purchase.
c